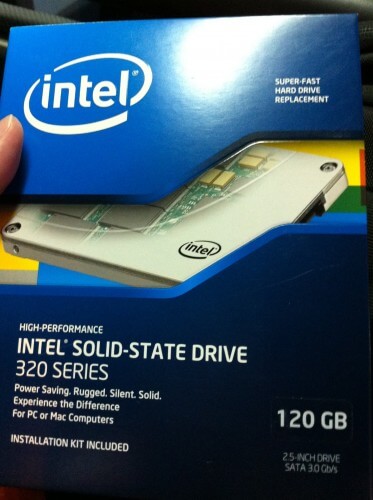 I've been wanting one for a long time. But the prices were too high at that time. Now that the Intel 320 series, 120GB SSD costs $315, I grabbed one quickly.
I've been on RAID 0 for a few years. Using 2 WD Raptors 36GB 10k RPM. Which gives me 72GB as my C drive.
After installing the OS, FFXI, I'm only left with a little bit of space for 1 or 2 more games. And games nowadays take up many gigs of space.
Which is why if I ever want to get an SSD, it will have to be at least 120GB. Back then, you'd need to pay SGD400~500 for such an SSD.
Right now, I'm restoring Windows 7 over the network. I bought an Ultimate edition because someone was selling it cheap. This edition allowed me to backup over the network to another computer which I have running 24/7.
Here's a few things I learned today.
When I set my motherboard's SATA ports to RAID mode, there was an extra long delay as the motherboard detects the drives at each bootup. Now that I'm on a single SSD, no reason to use RAID mode anymore. So I set my SATA ports to AHCI.
My DVD rom uses SATA, and I wasn't able to boot up through it. This is when I learned that you need to set it to IDE mode if you want to access your SATA DVD rom drive outside of the OS.
So I finally got to boot up Windows 7 from the DVD. Selected repair, and after a few dialog boxes, I was able to access the shared folder on my other computer which contains my system image and backups.
Not sure if I missed out anything, when Windows 7 started up the network, it connected to my network in 100mbps mode and not 1gbps. Thus, the restoration process is taking a long time. :(
I bought a new PSU last night too. A CoolerMaster Silent Pro Gold 600W, for the 80+ Gold rating in efficieny. This is for my 24/7 computer in hopes of cutting down the electricity consumption.
Updates:
After the restoration was done, Windows 7 would crash on bootup if the SATA port is set to AHCI.
I set the SATA port to IDE and it booted up fine. Then googled around and found this fix:
1. Startup "Regedit
2. Open HKEY_LOCAL_MACHINE / SYSTEM / CurrentControlset / Services
3. Open msahci
4. In the right field left click on "start" and go to Modify
5. In the value Data field enter "0" and click "ok"
6. exit "Regedit"
7. Reboot Rig and enter BIOS (hold "Delete" key while Booting