My Japan trip is coming soon and one of the things I had to prepare is a JR Pass. It's basically a pass that allows me to travel on all JR trains and bullet trains for free (except NOZOMI bullet train).
This is going to help save a lot especially when I'm planning to travel all the way down to Kyushu, stopping at Nagoya, Kyoto, Oosaka along the way.
So I went to Chan Brothers Travel office because I've bought a 7-day pass from them 3 years ago.
There, they told me they don't sell 14-day passes, but are able to sell me two 7-day passes.
From the JR Pass website, a 7-day pass costs 28,300 yen, a 14-day one costs 45,100 yen.
A huge difference of 11,500 yen between both if you compare it with two 7-day passes (56,600 yen).
I said I'll check first and that makes it the wisest decision I've made today.
I looked up for other distributors on the JR Pass website and called up H.I.S. International Travel to find out if they sell any 14-day JR Passes. A guy picked up the call and answered yes to my question. I went down there to get it.
I received the exchange order for the pass and this is how it looks like: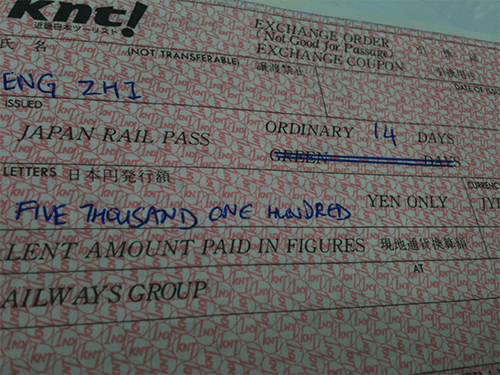 And I remembered this is how it looks like 3 years ago when I first got it from Chan Brothers.
14 is written.
Written.
I suppose they ran out of 1s and 4s and can only write 7s for me.
Anyway, I'm open to any reasonable explanations.