Back in January 2005, I blogged about NDS and PSP. The pros and cons of each unit with what I know.
To summarize, the reasons I didn't buy a PSP back then is because of the low battery life, a problem with the UMDs ejecting themselves with a bit of twist and the loading times from reading a UMD disc.
It's been more than a year since then. And till now, there isn't any good game for NDS. Not a single good RPG game. However, FF3 for the NDS is coming around September. So it's the best thing for NDS so far.
Recently, after learning more about homebrew and realizing that the majority of my friends possess a PSP, and looking at all those RPG/ActionRPG games, I got tempted and went to buy a PSP.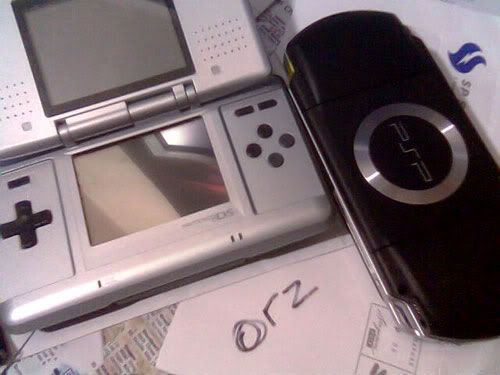 It's a local set, ver1.5 firmware, standard pack. Made in China. With membership at Gamescore, I paid $389 ($10 discount) for it.
I also bought Gyakuten Saiban (逆転裁判) for NDS and a Sandisk 4GB Memory Stick for $282. Could've gotten the Memory Stick at a cheaper price of around $250 but I was lazy to travel to Sim Lim Square from Funan IT mall.
One thing I find rather aggravating is…
THEY PUT A USB PORT ON THE PSP BUT THEY DIDN'T GIVE YOU ANY USB CABLE!
So yea… I haven't been able to start messing around with homebrew yet.