Well, FFXI just got updated with a few new stuff. I'll just go through it briefly on those that concern me most. DRK75, PLD75.
Mog Locker can now be expanded to 70 slots.
At the cost of 5 Imperial Gold pieces. Good thing I have 70,000 Imperial Standing points to spend freely.
Shortcut to Tu'Lia aka Sky.
3 clear chips are needed and they cost 21k each. Or you can just buy 1 but you'll only be able to warp to sky from the crag you traded your chip to. You will also have to finish the CoP 8-3 pot battle. Because you'll need the title you get from that BC.
Excellent. Because I go to sky a lot.
Update: blah, seems like there's a random chance for the chip to break so you'll have to spend 21,000 to buy a new one to fix it. Not sure if you have to register again.
5 sets of new equip.
I feel lucky the Ares's set can be used by PLD and DRK. But then again, to obtain the materials needed to make these new equip would require lots of Salvage battles and about 10~12 pieces of the already expensive orihalcum ingots and other hard to obtain items. Oh, and the Ares's set looks very cool.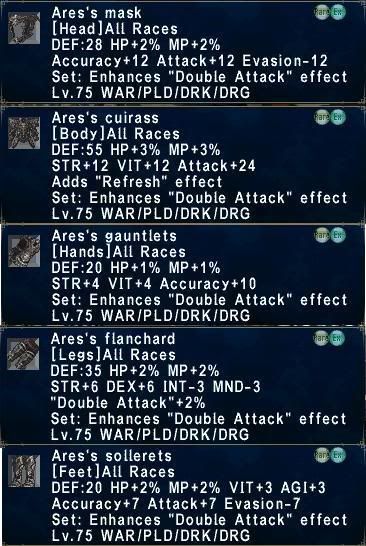 (*´д`*)ハァハァ
If I can, I'd choose the flanchard first! But it's going to make my DRK's TP gear look very very ugly…
Sentinel, Rampart and Shield boosts.
Sentinel is tested to give 50% damage reduction. Someone got 90% reduction but he tested it using cactuar's 1000 needles. Could it be possible that there's a higher damage reduction for monster's WSes? Also, with Valor Leggings (relic feet) equipped, he got a 100% reduction from 1000 needles.
I did my own tests, only noticed damage reduction from normal attacks. I tested it with /rdm. I got 0 damage even when I didn't shield block but my target was just an EP.
Didn't get to test Rampart. All I know is it gives stoneskin effect against magic spells.
When you cast spells and you shield block when attacked, your spell won't be interrupted anymore. Good news for the PLD/NINs?
Absorb spells reduced to 2 seconds.
From the previous 4 seconds. I wonder if DRK can create skillchains on their own now. I'll wait and see if other DRKs can pull it off.
Now, best of all…
Lord of Onzozo will no longer drop Kraken Clubs!
Instead, SE are thinking of new ways for everyone to get the club. It would be damn awesome if I can get my hands on 1. I would like to experience Soul Eater, Blood Weapon + Kraken Club for myself. I may also have to level NIN to 37 for utsusemi too… Oh well, let's see what the new methods of acquiring it are first!