Back before the Aht Urhgan expansion was released, I was quite frustrated with my accuracy in EXP PTs that I wanted to buy Cursed Sollerets -1 for the Armada Sollerets. Thank god I didn't.
Because the new expansion introduced Assault. And one of the rewards is a pair of Amir Boots, Accuracy+6 and Attack+5, a lot better than Armada solleret's Accuracy+4, Attack+6, MND-11.
MND is also an important attribute for Guillotine WS.
Anyways, I finally got my Amir Boots. Costs 20,000 assault points from the Mamool Ja category.
But the one thing I hate is, it makes me look very ugly. Here's a comparison.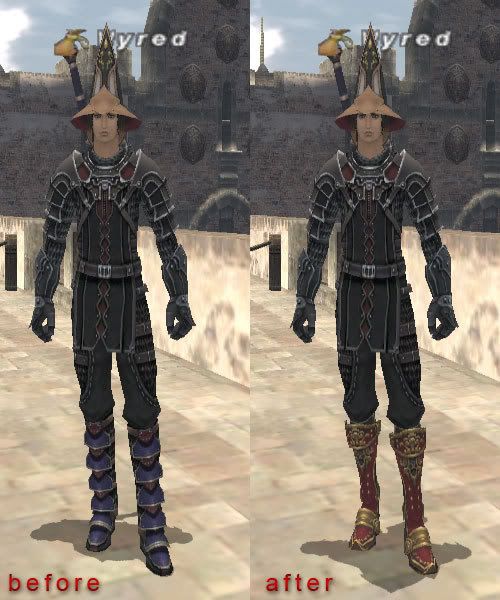 orz
So right now, I'm wearing Tracker's Kecks to hide these new boots.
Thick Breeches (ACC+2, ATT+5) + Adaman Sollerets(ACC+3, ATT+5) = ACC+5, Attack+10
Tracker's Kecks(ATT+6) + Amir Boots(ACC+6, ATT+5) = ACC+6, Attack+11
So in the end, it's not so bad if I go with the new combo. Tracker's kecks look sexy anyway. But I'll still bring along my thick breeches for HNM fights like Kirin.
Since I'm an accuracy whore, I'm hoping to get Homam Cosciales(ACC+3, Haste+3%) in future.

Looks much better right?